Content Writing Services | Amazing Content For Your Website
The most important metric for your website isn't the number of visitors, but the number of those visitors that become customers. The goal of everything on your website should be conversion. Having an informative blog is one of the best ways to reach that goal. With our content writing services, you can increase your traffic, conversion rate, and ultimately, your bottom line. 
We'll produce high-level content for your site based around questions that your customers ask and keywords that rank high in search engines written by experienced and vetted writers. All you have to do is let us know what you want and we'll do the rest. 
What Makes Content Important?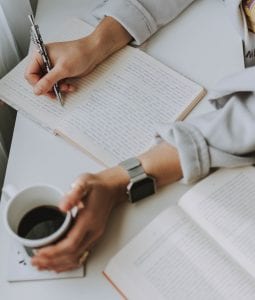 You've probably heard that content is king, but do you know why?
Simply put, strong content does two things for your business. First, it increases your SEO ranking, which helps people find your website. Second, content helps convert those visitors to customers. 
An SEO content writer will build your content around keywords, or phrases that people search for. When someone searches for these keywords, they're looking for the answers to important questions that they have about your service. This means that the customers are already looking for the service you provide!
By creating content around these keywords, content writing services build your website's SEO score. Google and other search engines act as information peddlers, pointing their users to websites that answer their questions. If you're the best website at that, you'll rank higher on their list. 
Since quality content provides your site's visitors with the answers they need, you'll build trust between yourself and visitors and establish yourself as an expert. This is an important step if you're wanting to convert visitors, as people are more likely to buy your services if they trust that you know what they need.
By ending the article with a strong call-to-action, the content will inspire the reader to look into your services. They'll be more willing to follow the CTA after they get the answer they were looking for, which is why it's important to always give the client what they're looking for in your content. You never want to clickbait them into looking at content on your site.
What Our Content Services Provide 
When you order content with us, the first thing we'll do is evaluate your ideal customer and your business. Understanding your ideal customer will help us determine their needs and what questions they're likely to have. 
When evaluating your business, we'll look at a few things. First, we need to see your blog. Is it a new blog or do you already have articles? If you have a new blog, we'll need to start fresh and answer basic questions in your first few blogs. What do you offer, what pain points do you address for your client, and why should a client choose you over other companies? 
If you have an established blog, do your previous blog posts give you the results you need? If they don't, we'll need to consider rewriting them. If they do, then we'll do deep dives into your services and answer the niche questions that customers ask. 
Keyword Research
Next, we'll need to do keyword research to determine what the best options are for your business. There are two ways to do this: a competitor gap analysis or question-driven research. 
Question driven research is mostly for new blogs. We'll see what keywords work best for your business. We'll find keywords that aren't overly-saturated and impossible to rank for but that still have good traffic. We'll also look for keywords that perform well in Google Ads (these have a high cost-per-click) because those keywords tend to have the best conversion rate. 
A competitor gap analysis looks at your website and compares what keywords you rank for vs. your competitors. If they rank higher than you, this will tell us why. During this phase, we'll look for easy win keywords, which shows us what keywords you can rank for easily while getting visitors and clients from your competitors. 
We'll then turn those keywords into content ideas and send you our ideas. When you approve the topic and keyword choice, we'll start to work on your blog! 
Creating Your Content 
The writers working on your content are all native English speakers with experience in writing web content. We only use the best writers and put them through a rigorous vetting process before allowing them to join our team. When you order content through us, you're getting an article written by an elite content creator.
How elite? Out of everyone that applies for a position with us, only 1% make it through the hiring process. We have high standards, and our thought process is simple: we won't send you an article that we wouldn't put on our own website. 
Every piece of content that we write is sent to a member of quality control, who are the 1% of the 1%. These are writers that have joined our team and written hundreds or thousands of pieces for us. We also regularly audit the members of our team to ensure that they're meeting our high standards. We follow the same process for our blog team and website copywriting team. Any product you order from us goes through a rigorous process!
With that said, we also understand that sometimes a piece doesn't work for your website. No matter the reason, if you aren't happy with the content that we provide for you, you can send it back to us and we'll fix it. When you order with us, you'll get amazing content for your website!
Depending on your needs, we can also upload your order to your website, allowing you to be as hands-on or hands-off as you choose. We make the process easy for you! 
Order Your Content Writing Now!
Are you ready to increase the number of visitors to your website? Do you want to convert more of those visitors into customers while also improving your SEO score? Order your content from us today! We're fast, reliable, and have an unparalleled commitment to quality.