Cincinnati Green Screen Studio Rental | Killerspots
Killerspots Media Agency is proud to support Cincinnati creatives. Whether you're a seasoned videographer or novice director looking to bring your video vision to life, our state-of-the-art Cincinnati video studio rental facility will support you every step of the way.
Rent a Green Screen Room in Cincinnati
Need a green screen for your next project? Need the support of a professional team of innovative problem solvers? Killerspots has you covered.
Reach your audience and achieve your creative objective with a green screen studio rental in the heart of the action. For over 20 years, we have provided full-service video studio rental solutions for Cincinnati based businesses and videographers. Our commitment to cost-effective pricing, professional-grade equipment, and customer service ensures that we are the best green screen studio rental service for a high ROI and unparalleled quality.
What Is A Green Screen?
Green Screen is a classic VFX (visual effects) technique where two separate images or video streams are composited together. Our green screen studio rental lets you drop whatever background you desire behind your actors and foregrounds. This means you can place a fictional, historical, or futuristic backdrop or far-flung location into your project without having to step a foot outside Cincinnati!
Who Needs a Green Screen?
We're all familiar with the fact that the fantastical backgrounds in big blockbuster movies look underwhelming on set. But with green screen (and a lot of support from visual effects professionals and compositors), videographers are creating worlds with an unbelievable air of authenticity.
The technique behind green screen dates back to the early 20th century. However, blue screen was more popular at first because it worked better with celluloid film. Today, green screens are more common and practical with the rise of digital filmmaking. Now you– whether you're a filmmaker, business owner, advertising executive, or bored college student –can take advantage of a green screen right here in Cincinnati.
How It Works
Shooting in our green room is straightforward enough. However, the real magic happens after the footage is shot, and the compositors take over:
The new background is composited (i.e., two images or video streams are layered together) into the shot.
The chroma key singles out the green color and digitally removes it by rendering it transparent. This lets the desired image show through.
When used with more sophisticated 3D techniques, this process can add any new element (smoke, fire, rain, etc.) to complex moving shots.
Not sure how to get your desired effect after using our Cincinnati green screen room? Don't worry, we have in-house experts who can tutor you through the process or handle it for you.
Hourly and Full Day Rentals
At Killerspots, we know that you have deadlines and meticulously coordinated shooting schedules. We strive to make our facilities as available as possible.
Weekends and holidays are all fair game. Need a studio for one quick shot? Shooting your entire project in a green room? We offer varied rental options catered to the needs of our clients.
Since every project comes with its own set of unique obstacles and advantages, we cannot offer a blanket price on rentals. However, you can contact our team for a transparent quote.
Need help with pre-production? Let us know! We have studio operators, talent, make-up, professional-grade cameras and lenses – plus, teleprompters, and set design if needed.
Fun Fact: Why Are Green Screens Green?
Truth be told, you can technically use any color background. However, the vibrant, neon green ours and many other studios use has become industry standard.
Why neon green? In most instances, this green contrasts with everything on the subject. Chances are, your actor's clothes, eyes, hair, and accessories aren't neon green.
However, green screen doesn't work for every project. If Kermit the Frog is your principal cast member, you'll have to seek an alternative.
All Projects and Abilities Welcome
We believe that access to the best video production equipment shouldn't be cost-prohibitive. While other agencies exclude by price and pedigree, we welcome businesses and creatives of all budgets and at every level of video production experience. Whether you want us to give you your Cincinnati video studio rental and disappear into the background or need support for every aspect of the project – our team is happy to accommodate.
Supporting Cincinnati's Creativity Since 1999
The team of contagiously creative digital marketing and video production gurus behind Killerspots Agency incorporated with one goal: create a world-class full-service production studio right at home in Cincinnati. Today, we are known for having established the current industry standard with our award-winning production styles. Even other advertising agencies use us.
But we haven't let this give us a big head. We are still committed to helping businesses of all budgets and sizes outpace their competition. Our green screen studio rental is only the beginning of how we can help you exceed your own expectations. Find out what our agency can do for your business' creative goals today!
Why Choose Killerspots
A production with Killerspots is a video production Cincinnati businesses respect. We are the best media agency and green screen studio rental in the area. Here's how we reinforce our credibility:
Support For Every Aspect of Your Project
Jingles, Radio Ad Production, TV/Video Production, Complete Marketing Strategy, Web Design – you name it, we handle it.
Killer Service
Our well-earned reputation is bolstered by our dedication to unparalleled customer service. Available, transparent, supportive. We will always be that media agency.
Fun Atmosphere
Most importantly, our team is fun. We make sure you look forward to coming into the studio and getting the most out of your project.
Rent Our Green Screen Room Today
Your frantic search for "best green screen studio rental Cincinnati" is over. When it comes to world-class technology, supportive service, and measurable results, Killerspots Agency is Cincinnati's trusted solution.
Hourly and full day rentals are available, as well as availability on weekends and holidays
Professional High Definition Canon cameras, audio equipment and lighting*
Professional Teleprompters
Studio Preview Monitor
350 SQ FT of studio space*
Large conference area
Dressing rooms | Wardrobe closets | Make-up*
Private in-office Restroom and kitchen area
Chroma-Key Green room and White Hard cyclorama walls
Free Access to an experienced studio manager
Professional Make-up artists available (optional)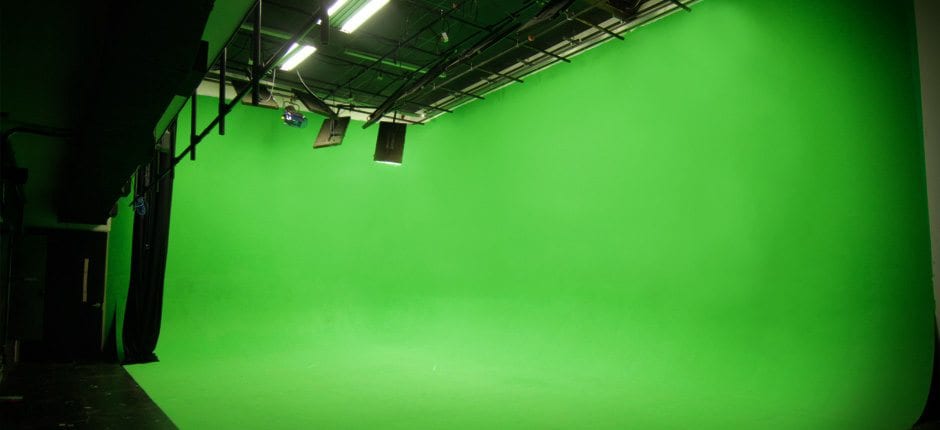 Apple® tv |Free Wi-Fi
Dolby® 5.1 surround sound Bose® system | 60 inch TV |
Restroom/ Dressing room and kitchen area/ Coffee makers / Water cooler/ Refrigerator
Access to an experienced operator to help set up and run the equipment
Plenty of Free, well-lit and easy access parking in a professional building
Right off the highway. 15-minutes from Downtown Cincinnati.
In addition to our hard "cyc" green screen, we've dedicated a portion of our studio as a white hard cyclorama for photography. The wall measures 17' in length X 12' deep X 14' ceiling.

Need Lighting Equipment?
The studio rental comes with:
2 – hot shoe flashes (guide number 58)
2 – 33 inch white "shoot through" umbrellas
2 – 33 inch reflective umbrellas
Gel kit for flashes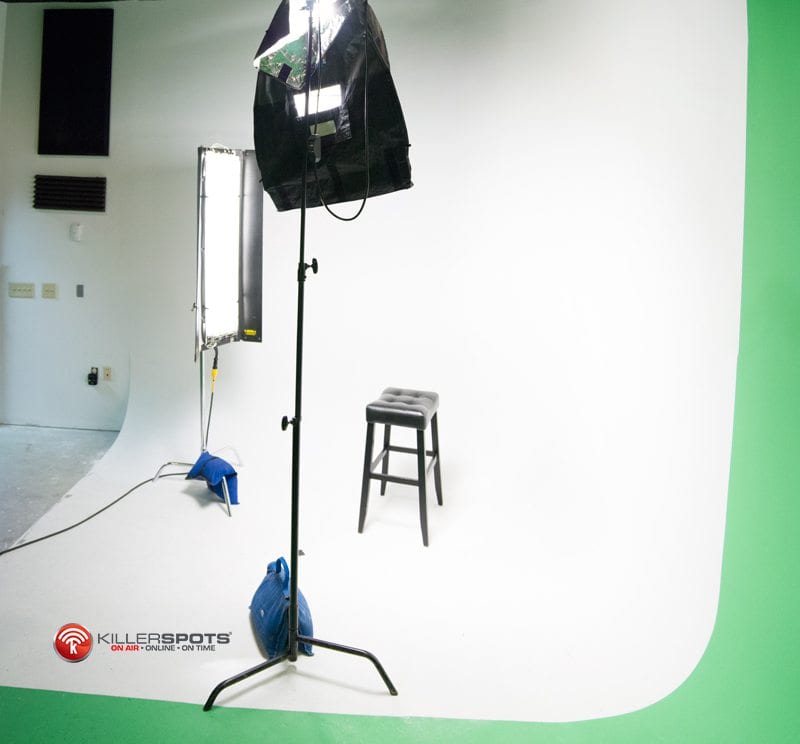 Do you need a quote or more information about green room studio rental?
Fill out the form below and we'll get back to you ASAP.