Pirates Cove Tropical Bar & Grill
Pirates Cove is one of the many clients we create graphic marketing content for at Killerspots. The first step of designing this email was to create the bare bones of the email. This consisted of the header, navigation bar, footer, and social icons. Once these elements were created and in place, generating content that switches out weekly like the specials, live music events, and coupons were placed into the template. Below you will find one of Pirates Cove's weekly emails with annotations of my thought process.
Web
Email/Inbound Marketing
Social: Facebook, Instagram, Twitter, Google+ and more
Print
Photography

We developed Pirates Cove's Website with their audience in mind. We wanted to keep the design simple yet eye-catching with bright images of water and sand paired with delicious pictures of food and drink. Our ultimate goal was to make the user's experience pleasant and easy to navigate.
Here are some examples of weekly newsletter emails we create for Pirates Cove. We develop email copy and graphics to highlight coupons, specials, contests, performers, and weather to send to their email club consisting of their customers and superfans. Our creative team collaborates to create them from start to finish.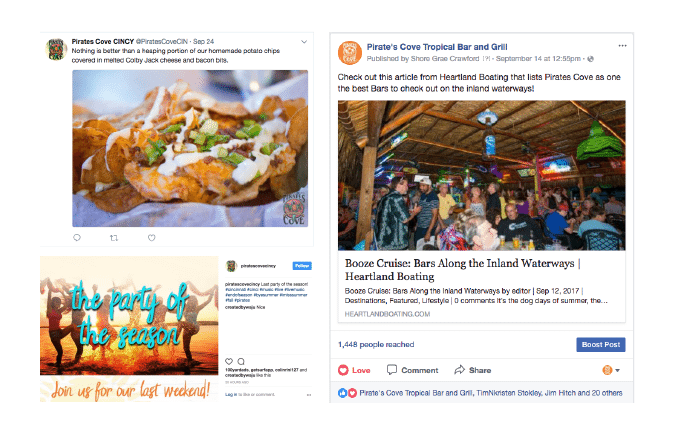 Our Social Media Management has helped Pirates Cove grow their website traffic, monitor audience engagement, build relationships with their customers, increase engagement and extend their social reach across their profiles.
We monitor their profiles 24/7 for messages, check-ins, and anything that requires attention. We develop strategic social campaigns designed specifically for them and their audience.
We designed and printed their food, drink and carryout menus, as well as contest posters, promotion cards with specials and more.
We designed these materials to be visually appealing to customers and still be easy to read. We strategically used print marketing to supplement where our digital marketing couldn't fully reach.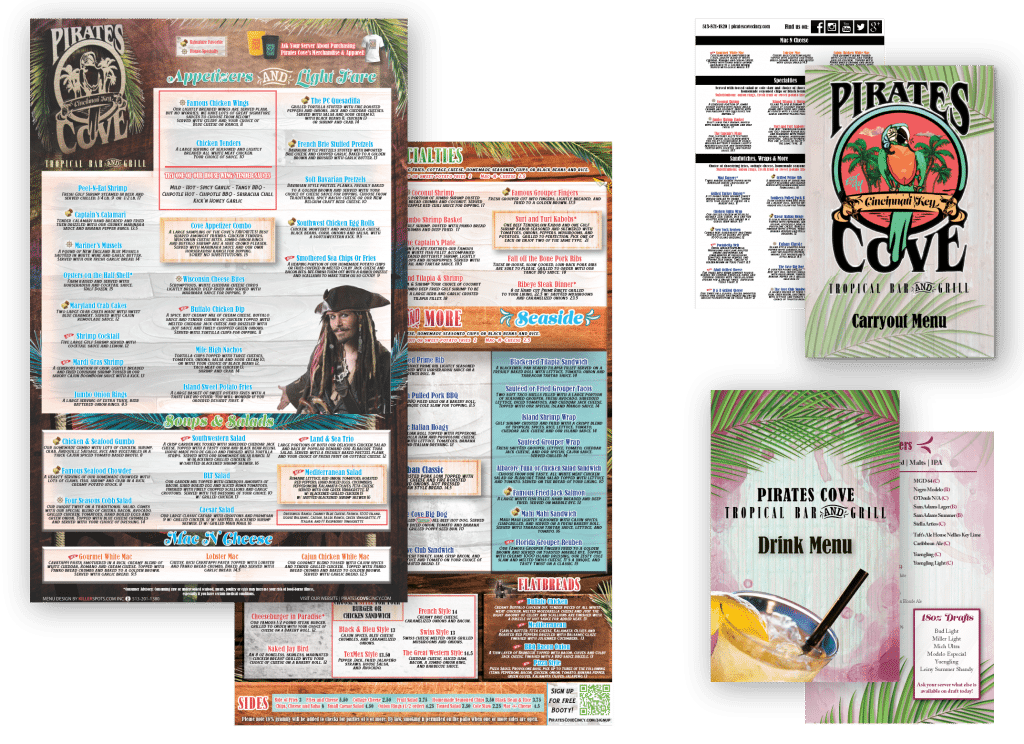 Photographs are another example of visual content we produce for Pirates Cove. The photos we take are used for social, email, marketing, and advertising content. We take photos of various things from their happy guests, mouthwatering food, tasty drinks, amazing sunsets and anything else we feel will capture their unique atmosphere.